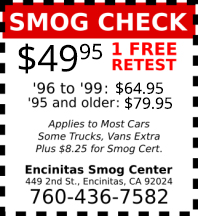 Vehicle Smog Testing in Encinitas, CA
Regular smog testing is a fact of life here in California, and we do all that we can to streamline the process for our clients. The team at Encinitas Smog Center wants to help you get your testing completed as efficiently as possible! In addition to our smog testing services, we now also offer one free retest. Our location is right near the Interstate 5 highway right off Encinitas Blvd., making it easy and convenient for our customers to find us.
If you need vehicle smog testing in the greater Encinitas, CA area, call our smog check station and schedule your appointment today. Encinitas Smog Center was founded in 1999 and has been proud to serve the community ever since. We provide high-quality smog tests for Encinitas and the surrounding area. Local residents have relied on our smog testing for over 20 years!